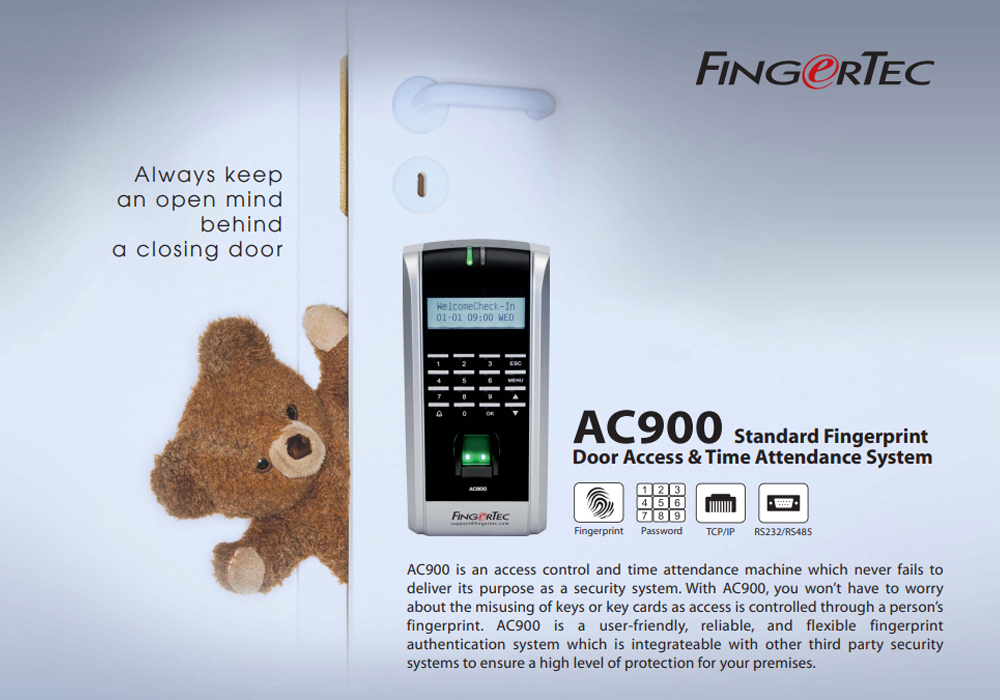 Fast Paced & Versatile




AC900 gives you an option of identity verification through finger print scanning or password. On top of that, fingerprint verification is done within a second!

Precise Recognition




AC900 uses minutiae matching technology that ensures only enrolled users are granted access.

Integrateable System




Have a different existing system in your organization? No problem, AC900's user data can be exported to several formats for you to integrate with your current system.

Eliminate Buddy Punching




The weakness with the clock-in card system is that 'buddy punching' can occur where one employee can clock in the time for another employee if any of them are late. Eliminate this occurrence by using the unique perindividual fingerprint as a clock-in card!

User-Friendly




Any more user-friendly, and AC900 will have to speak to you. AC900 has a simple-to-use user interface and keypad.

Workcodes




Let your staff experience more independence by reporting their whereabouts via our workcodes feature.

Manage Your Data Easily




Administration is easy with the Ingress software application. Ingress allows you to remotely manage door activity of all con- nected terminals, while containing time attendance functions for attendance monitoring.

Value for Money




This model was designed to be economical so that you are able to implement FingerTec solutions at a lower cost. We believe that when it comes to security, there should be no compromise.
Layout Plan
Layout Plan (Standalone)
for illustration only,

Installation Diagram
for illustration only,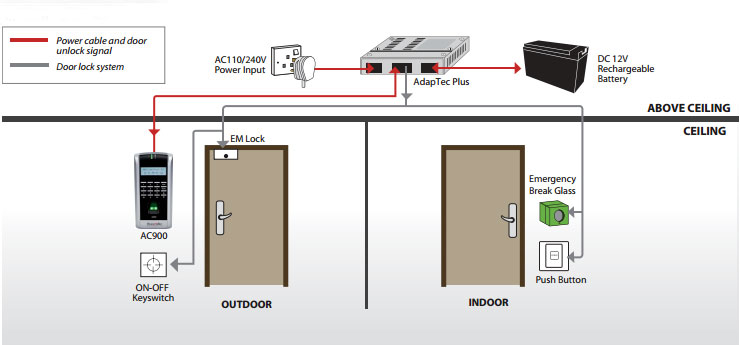 Specifications
SURFACE FINISHING
Acrylonitrile butadiene styrene (ABS)
TYPE OF SCANNER
Optical fingerprint scanner
MICROPROCESSOR
400 MHz
MEMORY
128MB flash memory and 32MB SDRAM
ALGORITHM
BioBridge VX 9.0/VX10.0
DIMENSION (L X W X H), mm
91 x 40 x 190
STORAGE
• Fingerprint templates
1500
• Transactions
100000
ENROLLMENT & VERIFICATION
• Methods
Fingerprint (1:1, 1:N), password
• Recommended fingerprint per user ID
2
• Fingerprint placement
Any angle
• Verification time (sec)
<1
• FAR (%)
< 0.0001
• FRR (%)
< 1
COMMUNICATIONS
• Method
TCP/IP, RS232, RS485
• Baud rates
9600, 19200, 38400, 57600, 115200
• Wiegand
26-bit output
OPERATING ENVIRONMENT
• Temperature (°C)
0 ~ 45
• Humidity (%)
20 ~ 80
• Power input
DC12V 3A
TIME ATTENDANCE
• Work codes
Yes
MULTIMEDIA
• Display
Black and white
ACCESS CONTROL
• EM lock driving output
DC12V3A / Relay output
• Alarm output
NO
DISPLAY LANGUAGE (TERMINAL)
English (Standard), Arabic, Malay, Indonesian, Chinese (Traditional), Chinese (Simplified), Thai, Vietnamese, Korean, Spanish, Portuguese (Portugal), Portuguese (Brazil), Polish, French, Russian, German, Italian, Turkish, Persian, Slovak, Greek, Dutch, Hebrew, Romanian, Bulgarian. Other languages are available upon request.
SOFTWARE
Ingress
*N/A: Not applicable
Packaging
1. With AdapTec
Dimension (mm): 245(L) x 90(W) x 225(H)
Weight: 1.73kg
1. Without AdapTec
Dimension (mm): : 225(L) x 72(W) x 168(H)
Weight: 0.73kg