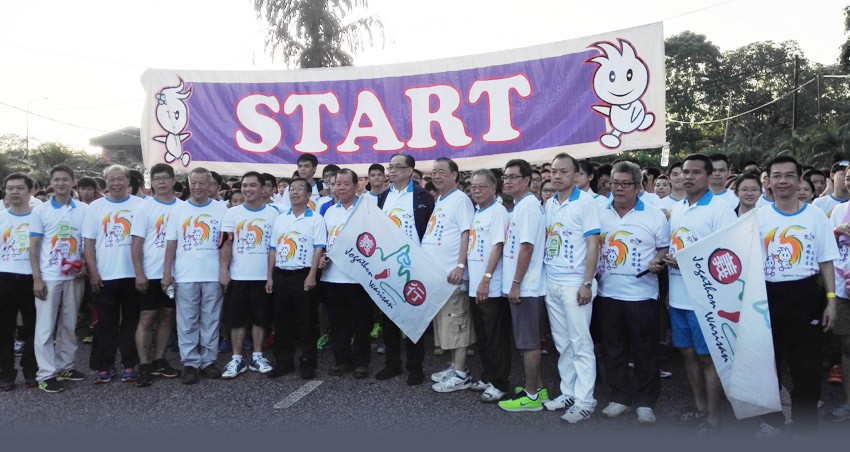 FingerTec Supports Jogathon Warisan 2015
Jogathon Warisan is an annual event initiated in 2001, jointly organized by the Youth Section of the Kuala Lumpur and Selangor Chinese Assembly Hall and 28 other organizations with the aim of instilling a love of history and traditions in the hearts of the younger generations.
This year's event was held on April 26th, started off at the Kwong Tong Cemetery, a 120-year-old cemetery located in the heart of Kuala Lumpur, the final resting places of many of Malaysia's prominent Chinese pioneers such as Kapitan Yap Ah Loy, the founding father of Kuala Lumpur and Kapitan Yap Kwan Sweng, the last Chinese Kapitan (Headmen) of Kuala Lumpur. Since 2007, this cemetery was renamed as Heritage Park, covering an approximate 333 acres of land, contained not only Chinese prominent cemetery, it also contains Hindu and Sikh crematorium, Sri Lanka Buddhist Cemetary, Roman Catholic Cemetery, and many more.
We run for a cause.
The jogathon was divided into 9 categories and ranging between 0.5km for the disabled participants and the maximum of 10km in men and women's categories. Some FingerTec personnel joined the men's and women's open 10km in showing our support to this event. The trek was planned through various historical memorial such as the Nanyang Volunteers Memorial, erected in 1947 to honor 3200 Chinese volunteers who served China during the Second Sino-Japanese War and the Japanese War Memorial to remember Chinese who were killed during the Japanese occupation in Malaya. Dotted with lush greenery and filled with historical significance, this Jogathon Warisan 2015 was a journey back in time to remind the youth of the past struggle of the Chinese community in this nation.
FingerTec has contributed RM3,000 in kind for this event and to ensure the continuity and further development of the Kuala Lumpur and Selangor Chinese Assembly Hall's activities.