M2/R2

Door Access & Time Attendance System

It is time to redefine security with the latest models of fingerprint Door Access & Time Attendance System, FingerTec® M2 and FingerTec® R2. Incorporating biometrics feature and RFID/MIFARE card system* as verification options, the newest FingerTec® readers are providing users with absolute comfort and convenience in every use. Additionally, FingerTec® M2/R2 is also providing Wiegand Input/Output communication, to ease integration with third party card readers or door controller.

On top of the standard communication protocols offered such as TCP/IP and RS232/RS485, these latest models have USB Flash Disk port, an important feature for data transfer in case of connection breakdown. For a total security feature, FingerTec® M2 and R2 readers are presented with the standards for alarm system, NO and NC, and in an event of break in, door ajar or illegal dismantle of readers, signal from FingerTec® M2/R2 can work with alarm system.
Built with sturdier materials, FingerTec® M2 (Zync Alloy - metal casing) and R2 (Acrylonitrile Butadiene Stylene - plastic casing) readers offer a solid and robust system which could stand weather effects for a longer period of time.
FingerTec® M2 and R2 readers are bundled with powerful TCMS V2 software that runs on Windows platform for readers and data management as well as for easy and presentable reporting. FingerTec® M2 and R2 readers run on Linux platform, providing flexibility to integrate firmware and performing customized functions. Complimentary BioBridge SDK is also available for integration with third party software. * RFID/MIFARE card feature is available in FingerTec® R2 model only
Download

FEATURES & BENEFITS
| | |
| --- | --- |
| | Extra Access Control Functions: FingerTec® M2 and R2 are equipped with standard Wiegand 26-bit input/ output feature and NO & NC alarm feature for better door access control solution. |
| | RFID Card for Time Attendance: FingerTec® R2 has an RFID/MIFARE Card function which is a sought after function for users who are looking to replace card system to fingerprint system, particularly for time attendance purpose. |
| | Robust Casing Material: FingerTec® M2 and R2 are built with robust materials for better finishing and higher resistance. |
| | USB Drive Available: Both readers offer USB drive function to enable data transfer in an event of communication failure between PC and readers. |
| | Various Language Selection: FingerTec® M2 and R2 offer various languages for user to choose from for hardware display, voice greeting and software display. |
LAYOUT PLAN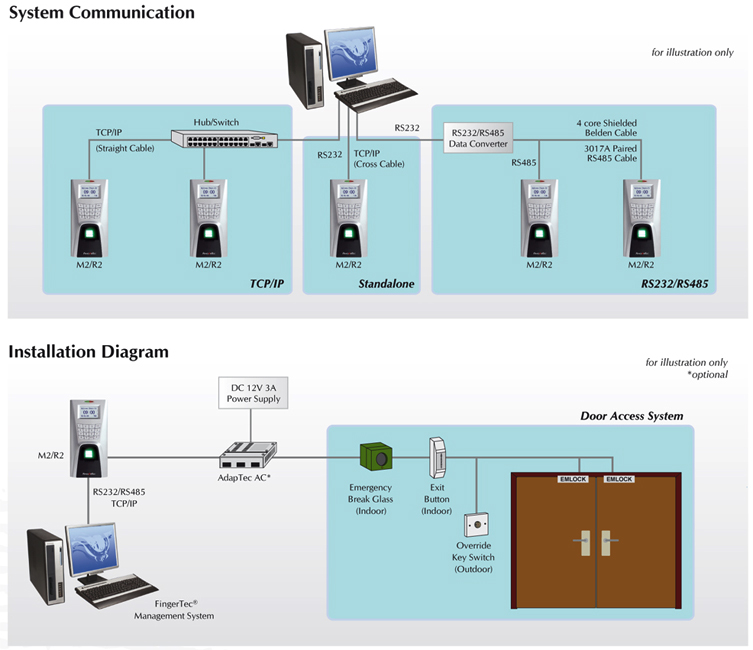 SPECIFICATION
MODEL

R2

M2

SURFACE FINISHING

Acrylonitrile Butadiene Styrene (ABS)

Zinc Alloy

TYPE OF SCANNER

Optical

DIMENSION (L X W X H) mm

94 x 50 x 189

94 x 50 x 189

STORAGE

• Fingerprint templates

3000

• Transaction

120000

ENROLLMENT & VERIFICATION

• Methods

Fingerprint (1:1, 1:N), Password & Card

Fingerprint (1:1, 1:N) & Password

• Recommended fingerprint per user ID

2

;• Fingerprint placement

Any angle

•Verification time (sec)

< 2

• FAR (%)

< 0.0001

• FRR (%)

<1

CARD TECHNOLOGY

• RFID: 64-bits, 125kHz

Yes

N/A

• MIFARE: MF1S50/S70, 13.56MHz

Optional

N/A

• HID: HID 1325, 26-bits, 125kHz

Optional

N/A

COMMUNICATIONS

• Methods

TCP/IP, RS232, RS485, USB flash disk

• Baud rates

9600, 19200, 38400, 57600, 115200

• Wiegand

26-bits input/output

OPERATING ENVIROMENT

• Temperature(°C)

0 ~ 45

• Humidity (%)

20 ~ 80

• Power Input

DC12V 3A

TIME ATTENDANCE

• Work Codes

Yes

MULTIMEDIA

• Greeting voice

Yes

• Short messaging

Yes

ACCESS CONTROL

• EM lock driving output

DC12V3A / Relay output

• Alarm Output

NO/NC

• Antipassback

Yes

GREETING VOICE / DISPLAY LANGUAGE (READER)


English (Standard) / (Upon Request - Arabic / Indonesian / Spanish / Turkish / Thai / Polish / Korea / Romanian / Portuguese / Dutch / Chinese / French / Slovenia/ Russian/ Greek / Hebrew / Farsi / Italian / Vietnamese / Czech / Bulgarian)

SOFTWARE LANGUAGE

English, Arabic, Indonesian, Spanish, Chinese, Thai, Vietnamese, French, Farsi, Italian, Russian, Malay, Portuguese, German
M2/R2 Packaging
Dimension (mm):
300(L) x 225(H) x 87(W)
Weight:

| | |
| --- | --- |
| M2 | - 3.0kg (with AdapTec AC) |
| | - 2.0kg (without AdapTec AC) |

| | |
| --- | --- |
| R2 | - 2.5kg (with AdapTec AC) |
| | - 1.5kg (without AdapTec AC) |