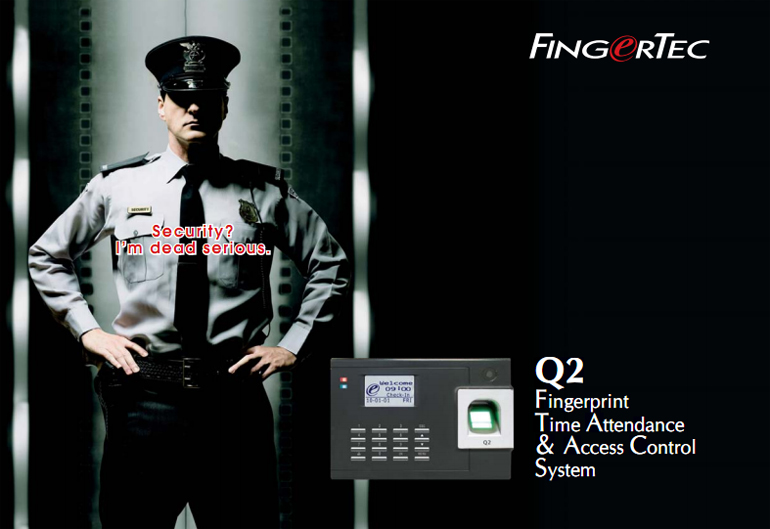 Brochure l User Manual l Video Guide
To meet the demands of small-sized companies, OFIS TA incorporates the highly sensitive PC-based fingerprint scanner with TCMS V2 to produce an effective time and attendance system that is not only user-friendly but also fraud proof. With OFIS TA there is no complicated hardware installation required and the system can be applied to any environment that has computers. In addition to providing simple solutions to smaller sized companies, OFIS TA also can be used as enrollment stations for larger corporations that are deploying multiple units of FingerTec readers in their corporations.

OFIS TA can store as many fingerprint templates as possible depending on the storage capacity of the computer and the fingerprint templates from OFIS TA are transferable to all FingerTec readers. Therefore, the templates captured can be used as main templates and they can be transferred to select readers accordingly.

OFIS TA, a simple fingerprint solution that provides superior benefits to all FingerTec users.
FEATURES & BENEFITS
TIME ATTENDANCE

•

To collect all clocking data automatically & systematically

•

Fast & effective data management by powerful software

•

Verification combination with fingerprint, password and RFID card

•

"Touch & Go" concept for effective operation

CONNECTIVITY

•

Support standard TCP/IP, RS232 & RS485 connection

•

Multi readers powered by centralized software

•

USB flash disk to ease data transfer

TIME ATTENDANCE

•

To eliminate unauthorized access

•

Constant monitoring of staff movement

•

Extra security with combination of fingerprint, password and RFID card

•

Easy integration with different types of door lock system

•

50 time zones with 5 groups to control staff accessibility

•

Trigger alarm for tamper switch released, forced access,
duress case & external siren

•

Supports antipassback feature
LAYOUT PLAN
System Communication
for illustration only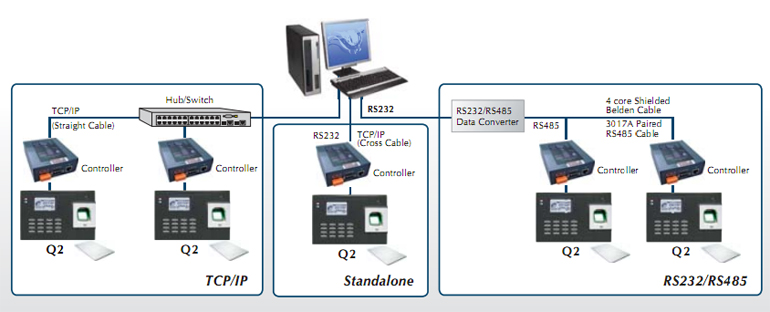 Installation Diagram
for illustration only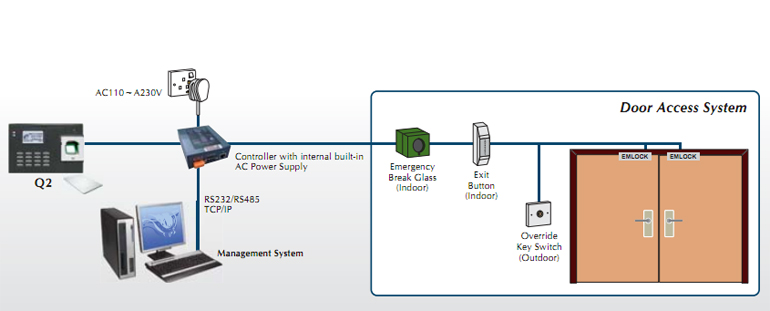 SPECIFICATIONS
SURFACE FINISHING
Acrylonitrile Butadiene Styrene (ABS)
TYPE OF SCANNER
Optical
PRODUCT DIMENSION (L X W X H), mm
162 x 42 x 110
STORAGE
• Fingerprint templates
3000
• Transaction
50000
ENROLLMENT & VERIFICATION
• Methods
Fingerprint (1:1, 1:N), Password & Card
• Recommended fingerprint per user ID
2
• Fingerprint placement
Any angle
• Verification time (sec)
<1
• FAR (%)
< 0.0001
• FRR (%)
< 1
CARD TECHNOLOGY
• RFID: 64-bit, 125kHz
Yes
• MIFARE: MFIS50/S70, 13.56MHz
Made to order
• HID: HID 1325, 26-bit, 125kHz
Made to order
COMMUNICATIONS
• Method
TCP/IP, RS232, RS485, USB flash disk
• Baud rates
9600, 19200, 38400, 57600, 115200
OPERATING ENVIRONMENT
• Temperature (°C)
0 ~ 45
• Humidity (%)
20 ~ 80
• Power input
DC12V 3A
TIME ATTENDANCE
• Work codes
Yes
MULTIMEDIA
• Voice
Yes
ACCESS CONTROL
• EM lock driving output
DC12V 3A
• Alarm output
NO/NC
• Antipassback
N/A
VOICE / DISPLAY LANGUAGE (TERMINAL)
English (Standard) / Other languages are available upon request.
SOFTWARE LANGUAGE
English, Arabic, Indonesian, Spanish, Chinese, Thai, Vietnamese, 
French, Persian, Italian, Russian, Malay, Portuguese, German
Packaging
Dimension (mm): 300(L) x 90(W) x 225(H)
Weight: 2.3kg (with AdapTec AC), 1.3kg (without AdapTec AC)