FingerTec For Hotel Locking Systems
Hotel guests and hotel management have two major concerns when it comes to choosing a guest room locking system - security and convenience. The system must be foolproof to avoid unauthorized access using the guest cards, and while striving to achieve that, the customer's positive experience cannot be compromised at any cost.
The incorporation of a biometric system in a hotel locking system is able to provide both, and at a very attractive price at that. By having a guest's fingerprint data in the room's card, security is brought to another level. No swapping of cards between guests and visitors is possible, hotel personnel's access into the rooms would be better managed by having the personnel's fingerprint available and traceable in the terminals, and the checking-in process for guests would be fast and convenient.
FingerTec Biometrics Solution is exclusively designed to meet a hotel lock system requirements. All you need are these three items: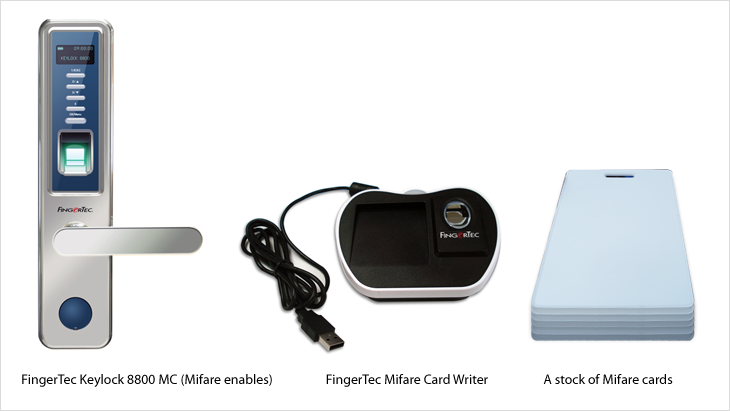 With these these three items, you will be ready to manage your hotel locking system.
Firstly, every room needs to be fitted with a Keylock 8800 MC in place of the traditional doorknob. One great feature about the Keylock is that it combines a biometric reader and an electronic door lock all in one, with a door knob design that is stylish and sleek. The robust ANSI/Euro standard mortise fingerprint Keylock 8800 MF model is a standalone intelligent lock exclusively designed to meet the requirements of Hotels, Guest Houses, and Hall of Residences market. It is programmable to accept only Mifare cards, fingerprints or a combination of both, giving sufficient options to clients.

Once you've installed and activated the Keylocks in the rooms, it is time to start allocating Mifare cards to each room. Enroll a couple of cards into each room and label them accordingly.
Next, you will want to get the enrolling station in the lobby ready. This is where the Mifare Card Writer comes into use. The Mifare Card Writer's role is to enroll the user's fingerprint into each Mifare card with the help of the complimentary OFIS software. Install the OFIS program into the PC, plug your Mifare Card Writer into the system, and start enrolling the user's fingerprint into the Mifare card. Not only is the issuance of MiFare cards easy, but it also provides extra security where the cards are exclusively assigned to particular guests. The cards expire automatically at a default check out date and time to avoid misuse and mismanagement. General master card, building master card, floor master card and fire-alarm cards are available for issuance to different access rights for hotel staff.
Now you're good to go. Running your hotel locking system couldn't be simpler. If you have an existing system in your hotel, or wish to introduce a third party program into the system, FingerTec has the BioBridge SDK available for you to to interface the system with other systems such as mainstream hotel billing/booking software packages. When linked, our software simply runs in the background, allowing key cards to be produced at the front desk easily when guests check in to the hotel. It provides a connection to an encoder to program system cards for their required authority of access.
The Biometrics Mifare Smartcard system can also be expanded to include public areas such as Swimming Pool, Sauna Room, Tennis Court, Game Room, Meeting Room etc, used in conjunction with an online access control system by using various proximity and biometric readers that are available, incorporating the 26-bit Wiegand format. FingerTec has a variety of readers for this purpose ranging from simple to advanced, proximity card to fingerprint reading, and even to face recognition.

And if you wish to track the movement of your staff or guest in case of an unforeseen circumstance or just if you wish to expand the access system to apply to your staff, the bundled solution, TCMS V2 is a powerful time attendance and access control software that can be used as a time clocking management software for hotel staff and access control.