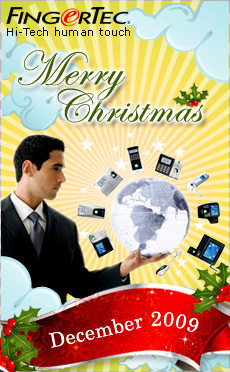 Smart Keylock 8800
The ultimate all-in-one lock!
i-Kadex
Slim reader for door access
R2i
Exit in style
TA100T

Subtle sophistication in attendance
i-Kiosk 100 Plus
Color your presence
i-kiosk 100
Versatile Mini Kiosk for your Office
Malaysia External Trade Development Corporation (MATRADE) endorses the use of "Made in Malaysia For the World" sticker on all FingerTec products.

FingerTec Ad Rewind!
Committed Brand advertisement was produced by FingerTec Worldwide to highlight the aspiration of the company to bring FingerTec brand to a global stage through our highest level of commitment....
FingerTec in 2009


2009 is a pretty balance year with plenty of challenges to overcome, a few achievements to celebrate and most of all abundance of high spirits to keep us moving forward to achieve....
Quality Control Australian Style


I went to Perth Australia last month for a short break. I had little idea about what Australia is going to offer me but from my readings people review that Perth is one of the best cities in the world....
| | |
| --- | --- |
| India | |

Stood Out In Mumbai

With our partner, Compax Industrial System took care of the booth, I had ample time to roam the Exhibition Hall. In summary, the Chinese Sourcing Fair is all about a fleet of Chinese companies that...

| | | |
| --- | --- | --- |
| 17-19, Jan 10, UAE | Booth no. 6-203C | |
Once again, FingerTec will be participating in the Intersec 2010. The 3 days exhibition will be held at Dubai International Convention and Exhibition Centre, Dubai, UAE....
| | | |
| --- | --- | --- |
| 02-06, March 10, Germany | | |

FingerTec will participate in the CeBit 2010in, Hannover, Germany. CeBIT is the world's largest trade fair showcasing digital IT and telecommunications solutions for home and work....
| | | |
| --- | --- | --- |
| 19-22, April 10, Russia | W1, Pavilion 8 Hall 3 | |

Once again, FingerTec will be participating in MIPS 2010, Russia; the largest and one of the key meeting grounds for communication the safety and security industry developments in Russia....
| | | |
| --- | --- | --- |
| 21-23, April 10, Taiwan | | |
FingerTec will be in Taipei, Taiwan on 21-23 April 2010 to participate in one of the largest exhibition in Asia; SecuTech Expo 2010. This year, SecuTech offers the latest....
Bus Service E-Ticketing


Factories and schools usually provide bus services to organize journeys back and forth the destinations at no cost or at a
a minimum charge. For school buses, parents are imposed with a monthly fee. A conventional way is to show access card for example employee card or bus card to the driver for verification. For buses that are using a better technology, proximity cards or smart cards are used for this purpose. All passengers need to do are to wave their cards
Product

For every package of each model, the details of all items included are presented clearly for your perusal and selection.
Sales & Marketing

Get what you need here to assist you in your marketing of FingerTec® products.
Accessory

Order your accessories online to be included with your orders.
Technical Tips

This is the website to get technical documents, videos, diagrams & sofware downloads, etc.
Online Training

To get training documents such as Reseller product training, Sales training, tutorial, etc.
Warranty Claim

Make your online warranty claim and it's easy and quick.
*We will approve your registration within 24 hours
*Terms & conditions apply
| | |
| --- | --- |
| | Lost your TCMS V2 product key? |