In 2017, SF Express as one of the leading express logistics service providers in China has expanded its business development to an attractive investment destination, Malaysia. Setting up its base with service centers and deports located in three respective states - Selangor, Penang and Johor, SF Express (M) Sdn. Bhd. will be provisioning the latest front-end processes services from production to distribution in delivering the SF Express's value chain with high-quality logistic services at the distribution end.

With a growing workforce of up to 150 personnel, SF Express Malaysia has leveled up to increase their power over management matters by committing to TimeTec TA cloud based solution.
| | |
| --- | --- |
| | |
| Confront Operation Challenges | Deter Operation Destruction with TimeTec TA |
| Faulty & Unresponsive Biometric Devices | FingerTec TA100C Device & System Robustness Guaranteed |
| Uncaptured Staff Attendance | Real-time Device Connection via Internet |
| Manual Extraction of Attendance Data | Automated Attendance Administration |
| Long Data Processing to Payroll System | Easy Data Exportation |
| Staff Scheduling Delay | Flexible Preset & Access to Staff Scheduling |
| Manual Calculation of Work & Overtime Hours | Computerized Calculating System |
| Unmanageable Staff Misconduct | Live Monitoring of Daily Work Time Reporting |
| Inaccurate Staff Performance Report | Various Format Reports Available for Downloading |
SF Express (M) Sdn. Bhd. has developed a more fluid and straightforward management process with TimeTec TA. With the established range of TimeTec TA app features, SF Express can now enable the establishment of a mobile-focused portal and harness the data collected to create a more business-centric approach to leverage their internal operation struggles and generate better governance and practices within their workplace.
You don't have to go for a higher rate service
TimeTec still fulfills your needs!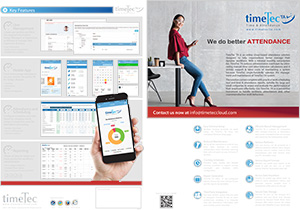 Brochure
Call Marcus: +603 - 8070 9933