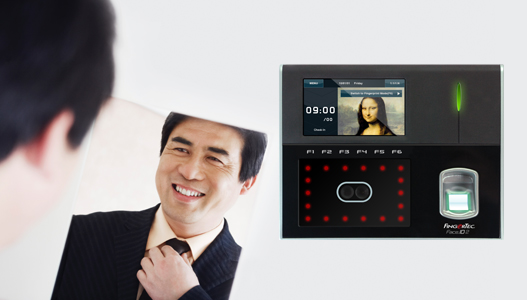 Yes, it's me!
Face ID 2, the machine that confirms your identity at a glance
Three Modes, One Machine
Face ID 2 is the latest biometrics product from FingerTec Worldwide that combines face recognition technology, fingerprint technology and card technology in one sophisticated machine. It is loaded with a powerful microprocessor to collect precise data for time attendance and door access for premises and offices.
Why should you choose Face ID 2?
You have options
FingerTec Face ID 2 allows you to have verification options you prefer. You can choose between face, fingerprint and card verification method based on your preference and requirements. Registration and shifting of verification modes can be done without much hassle, which makes Face ID 2 versatile for everyday office use.

Experience The Latest Technology
Get to experience the wonder of the latest biometrics technology through Face ID 2. The machine takes 5 images to obtain a 3D template of your face image. After enrolment, verification can be done at a glance and even in the dark. It is contactless and hassle free, and it provides precise data for attendance and door access activities.




Market FingerTec Products in Your Country the FingerTec Way.




TA300 is the latest attendance machine from FingerTec that works like a mobile gadget.

We Simplify
8 exclusive accessories. Brought to you exclusively by FingerTec.




Inconsistency has always killed any brilliant new plan halfway through. In the contrary, consistency is THE key to a successful implementation of any plans.




FingerTec is now in Facebook and Twitter! Get the latest updates of FingerTec products, software, promotion and news straight from us.

Biometric Security Market Worth USD650mil by 2013
The latest biometrics market report from IMS Research published by Detektor magazine.
DOMINICAN REPUBLIC

by MS NATTALINA ZAINAL

In February 2010, IKEA, an international home products retailer that sells flat pack furniture, accessories, bathroom and kitchen items, will be opening its doors to the people of Dominican Republic through its first outlet in Santa Domingo. The good news is, IKEA has chosen FingerTec door access products to control its entire staff access for...

DUBAI




by MR BENACER DOUADI


From 17 to 19 January 2010, FingerTec participated in Intersec 2010, a show staged at the Dubai International Convention and Exhibition Centre, Dubai, UAE. Mr Batyr Komurzoev and I were assigned as stand managers for the 3-day show. Intersec is one of the largest security industry exhibitions in the Middle East...

NICARAGUA




by MS GABRIELA SALGADO


With its worldwide presence, FingerTec has helped small and large scale businesses to grow. Despite the economic crisis, some security companies found opportunities to expand their range of security products. Whether they specialize on CCTV alarm systems or use fingerprint technology for their human resources solutions...

MALAYSIA




by MS KARTINA AZLINA MOHD YUSOF


Digi Access Sales & Services starts with FingerTec products about half a year ago. Within only six months of selling biometrics products, the company has managed to secure a few good deals in Negeri Sembilan as well as in a part of Selangor. Recently Digi Access installs 25 units of R2 in MARDI, Malaysian Agricultural Research and...

IRAN




by MS NATTALINA ZAINAL


TACO plans to boost FingerTec sales in Iran in 2010 with various marketing activities and in January, they introduce their own FingerTec catalogue plus video guide in Persian to cater to the Iran market. The video guide includes FingerTec documentary video and product presentation power point file to provide basic information of...

Exclusive Membership is Key Joining a fitness centre has becoming a lifestyle of people living in the city to utilize professional exercise equipments and working up a sweat after work. Apart from that idea, obtaining membership of a prominent fitness centre shouts exclusivity, urbane and class, which translates to the amount of fees customers are willing to pay for the membership. There are many factors to an exceptional fitness centre such as prominent trainers, good trainings, flexible sessions, individual training sessions, etc...
| | |
| --- | --- |
| | You can enable the "Auto-Check" for software upgrade online feature in TCMS V2... |
| | |
| | The report is applicable to all FingerTec door access terminals that are connected to the... |