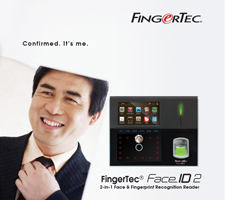 Meeting rooms in FingerTec headquarters are named after Greek philosophers and their concept of branding.

Permission Marketing


One might think a notion of forced marriage has vanished, and marriage is supposed to be union of loves, after acquaintances and long enough get together. Still, some parents might trade their
Hari Raya Celebration At FingerTec


Muslims around the world are celebrating Syawal this year at the end of September and it's a month celebration. It's called Hari Raya in Malaysia, Eid in many Middle East countries....
| | |
| --- | --- |
| Morocco | |

Scolarium Sells FingerTec In Morocco

As a renowned supplier for the latest technologies, Scolarium is always looking for high-technology products from reputable manufacturers in the field of computing, security and communications....
| | |
| --- | --- |
| Malaysia | |

| | | |
| --- | --- | --- |
| 12-15 Oct 09, Hong Kong | Booth no. 11P10 | |
On 12th to 15th October 2009, FingerTec will be at the AsiaWorld-Expo, Hong Kong, to participate in the China Sourcing Fair 2009. This fair is a specialized sourcing event for importers...
| | | |
| --- | --- | --- |
| 29-31 Oct 09, India | | |

FingerTec will be participating in the IFSEC INDIA from October 29-31, 2009 at the Pragati Maidan, New Delhi. FingerTec will be represented by Compax Industrial Systems Pvt Ltd....
| | | |
| --- | --- | --- |
| 10-12 Nov 09, Malaysia | Booth no. B2075 | |
FingerTec will once again participate in the INTRADE Malaysia 2009. The INTRADE Malaysia 2009 is organised by the Malaysia External Trade Development Corporation (MATRADE)....
| | | |
| --- | --- | --- |
| 20-22, Nov, India | Booth no. 1N89 | |

FingerTec will be participating in the China Sourcing Fair Bombay 2009, which will be held at the Bombay Exhibition Centre on 20th - 22nd November 2009. China Sourcing Fair is well known....
BioBridge SDK para desarrollar la solución o un software para los usuarios. El BioBridge SDK es un comando API para comunicarse con las terminales FingerTec®. Un integrador de sistemas o un desarrollador del software tenía que estudiar el Biobridge SDK antes de que pudiera empezar a desarrollar o hacer la personalización. Por lo tanto se desarrolla el FTDP para facilitar el trabajo del integrador de sistemas o un desarrollador de software....
Product

For every package of each model, the details of all items included are presented clearly for your perusal and selection.
Sales & Marketing

Get what you need here to assist you in your marketing of FingerTec® products.
Accessory

Order your accessories online to be included with your orders.
Technical Tips

This is the website to get technical documents, videos, diagrams & sofware downloads, etc.
Online Training

To get training documents such as Reseller product training, Sales training, tutorial, etc.
Warranty Claim

Make your online warranty claim and it's easy and quick.
*We will approve your registration within 24 hours
*Terms & conditions apply
| | |
| --- | --- |
| | Lost your TCMS V2 product key? |