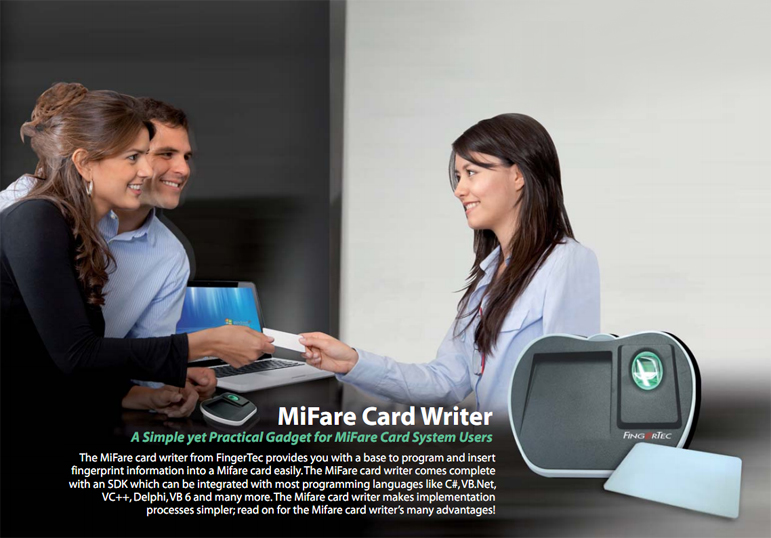 Practical Mifare Card Issuance Station




Issue Mifare cards easily with the Mifare card writer; all the user needs to do is place the card and scan a fingerprint! No hassles, no complications!

Supports Common MS Windows System




The Mifare Card Writer is made compatible with the commonly available Windows Operating Systems including Windows 2000, 2003, XP and Vista.

Simple User Verification Station




The Mifare card writer comes with a fingerprint scanner that besides enrollment can be used as verification station for time attendance and PC logon.

Comes with extra 5 Mifare cards




A purchase of the Mifare card writer entitles you to 5 free Mifare cards that are compatible with the system.

Simple SDK Provided to Ease Integration with Third Party System




The MiFare Card Writer comes complete with an SDK which can be integrated with most of the programming languages like C#, VB.Net, VC++, Delphi, VB 6 and etc.

Compatible with all FingerTec MiFare models including Keylock 8800




The fingerprint data derived from the Mifare card writer is compatible with all FingerTec MiFare models including Keylock 8800 Mifare model, a mechanical standalone fingerprint doorlock.

Viable Biometrics Implementation in Certain Application Scenarios




Availability of the Mifare Card Writer makes biometrics implementation in some complicated application scenarios like hotel guest management, club membership etc.

Sleek and compact design with USB port




The size of the card writer makes it easy to use and store, providing convenience to all users. The simplicity and practical design of it makes it useful for various functions, as well as makes it user-friendly and self-explanatory. It comes with a USB port for easy application and data transfer.
LAYOUT PLAN
System Communication
SUGGESTED INSTALLATIONS
*Hotel, Fitness clubs, Golf clubs Installed with OFIS driver, OFIS SDK and Mifare writer SDK free demo
SPECIFICATIONS
| | |
| --- | --- |
| SURFACE FINISHING | Acrylonitrile Butadiene Styrene (ABS) |
| TYPE OF SCANNER | Coated optical scanner |
| PRODUCT DIMENSION (L X W X H), mm | 124.5 x 102 x 34 |
| LENGTH OF USB CABLE (CM) | 150 |
| RESOLUTION OF FINGERPRINT (DPI) | 500 |
| SCAN DATA | 8-bit grayscale (256 levels of gray) |
| STORAGE | N/A |
| ENROLLMENT & VERIFICATION | Read/Write into Mifare card |
| COMMUNICATIONS | USB 1.0, 1.1, 2.0 |
| OPERATING ENVIRONMENT | |
| • Temperature (°C) | 0 - 45 |
| • Humidity (%) | 20 - 80 |
| • Power input | DC 5.0 +/- 0.25V USB supply |
| POWER CONSUMPTION | |
| • Capture fingerprint image (mA) | 100 |
| • Idle(mA) | 30 |
| • Suspend(mA) | <0.5 |
| COMPATIBLE OS | Windows 2000, 2003, XP, Vista |
| USAGE | Indoor, Home and Office |
| | | |
| --- | --- | --- |
| | Packaging | |
| Dimension (mm) | : | 135(L) x 49(W) x 179(H) |
| Weight | : | 0.28kg |